June 2021
As CPM's Air Blast Injection project is progressing very well, I certainly understand the confusion about the mysterious Graz Diesel.  It will be the third engine in the ABI building and will complement the Augsburg (MAN air blast) and the Benz (not air blast but significant).  This will be a world-class display!  So now I will try to explain what the Graz is, where it is, and why it is so significant.
Back in 2019, Gordon Jones, Edith Rice, Tom Rapp, and I made a wonderful trip to the small city of Hof in Bavaria, Germany's southernmost state, to visit our friend, Dr. Friedrich Busch, and learn how to operate our Augsburg Diesel.  He had installed his in the original configuration, showing air tank and compressor location, fuel system design, and all necessary pipe pits.  We flew to Munich and drove to Hof, about an hour away.  After getting our rooms at the delightful Hotel Burghof, we met Friedrich for a delicious dinner and made plans for the next day.  Wow! It's finally happening.
Old Town Munich and the Hotel Burghof.
Next morning, we made the short drive to Friedrich's home for a very special day.  We learned all about his MAN Diesel and took breaks to go over to his home to enjoy scrumptious snacks provided by his wife and to look at endless photos and drawings.  He explained the compressed air system, the cooling system, and the fuel system.  After learning the pre-lubrication procedure, we all took our turns starting it.  What a wonderful machine!
At the conclusion of the day, we met two of Friedrich's friends and enjoyed a great dinner at a local Brewhaus.  We felt quite at home!
While visiting with Friedrich, we viewed his operating Graz, but had no idea that it would ever come to Coolspring.  But that situation surprisingly changed in 2020 when Friedrich offered it to me, providing it be set up at CPM.  Wow! How could I refuse!  So, funds were secured and a down payment was made.  Friedrich wanted us to return to Hof to learn its operation and help with the disassembly and packing, with the packages to then be loaded into the awaiting container.  The trip sounded exciting!  We chose a group to go and had preparations made, including airline and hotel reservations.  All arrangements were made with a packing and shipping firm and the engine would arrive in Coolspring that summer.  So enthused!
But then COVID-19 struck.  How long would it last?  Perhaps postpone the venture a while?  No, that did not happen and the possibility of obtaining it this year looks bleak.  So, Friedrich and I are patient, and it will certainly come to CPM!  That is a promise.
So just what is this Graz engine and why is it so very important?  First, look at its name plate at the heading of this article.  It is number 19 and built in 1904.  Being 12 hp, it perfectly matches the other two engines in the ABI building.  It is the oldest operational air blast Diesel built in Austria in the world!
First, let's go over to Austria and visit the small city of Graz, Austria.  It is a beautiful little city and home of the Grazer Waggon & Maschinen Fabriks, a firm that would become a major manufacturer of Diesel engines.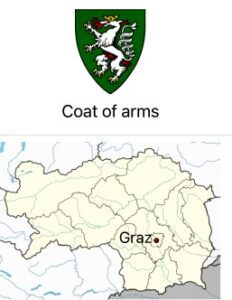 Early Graz ad, the city of Graz, Austria, and the location of Graz.
Grazer simply means "Of Graz".  The firm was the largest of its kind in the Austrian-Hungarian Empire.
So now we will journey back to the beginning of the 20th century to meet the founder of the firm and learn its history.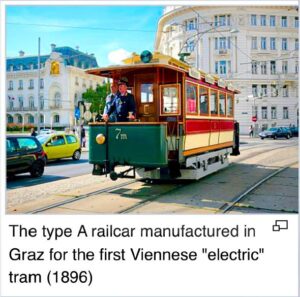 This photo shows a restored trolley still operating today.
Johann Weitzer (1832-1902) had grand plans to manufacture railroad cars, founding a firm in 1854, in Graz, Austria, in his name to do this.  He chose to build self-powered electric trolleys, as cities all over Europe were replacing their horse-drawn trolleys with the much cleaner new electric ones.  He also made railroad box cars for freight and passenger cars.  The firm thrived and became a corporation in 1899.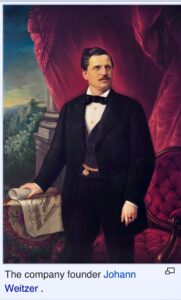 At that time, they entered the manufacture of Diesel engines, licensed from Augsburg.  Again, the venture proved very successful, becoming the largest producer of Air Blast Diesels in Austria.  Although this business did not eclipse the trolleys, their sales gained rapidly.  Due to their solid construction, the engines got an excellent reputation.
This photo shows a typical installation of 1915.  Note the compressed air tanks and compressors in a very pristine installation complete with tile floors.  Spotless, but very operational.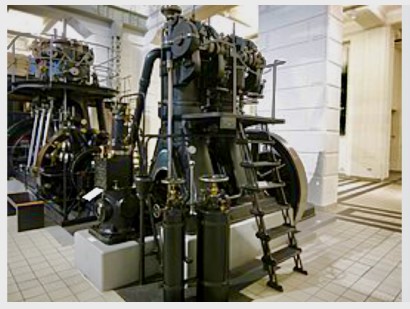 After 1908, the Diesel patents had expired, so instead of having to use "Patent Diesel," they chose the name "Grazer Motor."  Great, sounded so much better!  At that time, the engines got an extra plate in the finest Art Nouveau design.  Interesting design!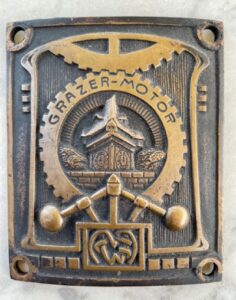 The firm was building a 1000 hp engine in 1926 and a mammoth 3000 hp engine in 1933, but the company peaked in 1928 and 1929.  Newer designs replaced the air blast system, and the marque was last used in 1939.  However, after many mergers, it still exists today as Astra Vagoane Calatori.
The most famous landmark of Graz Diesels is the Diesel Centrale in Vienna, Austria.  It was in operation from the 1900s through the 1950s.  To view all the wonderful photos, go to http://www.bcd-urbex.com/diesel-centrale-Austria/.  Here are two photos to tempt you!
This magnificent installation of Graz Engines is located at the Schwechst Brewery in Vienna, Austria, never to operate again or be open to the public.  They fear disruption to their pure well water for the beer.
So, we have reviewed the Graz company and now look at the Graz Air-Blast Injection Diesel that is coming to CPM.  Friedrich is explaining its details as he is showing all its fine construction to Gordon.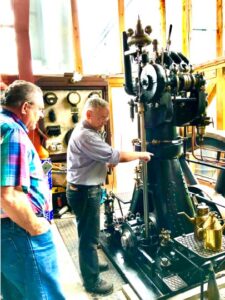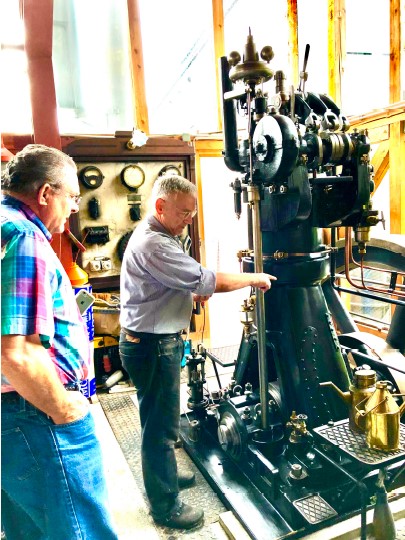 It is a much heavier built engine than the Augsburg but has very similar operation.  The main difference is that it does not have an integral air compressor, but uses a belted, two-stage compressor to provide the necessary 800 psi for starting and running.
Surprisingly, this arrangement does have an advantage as Friedrich is demonstrating here.  The compressor can be powered by another source such as a small engine, or in this case, an electric motor.  Hence, the tanks can be filled for starting, then the belt replaced to the engine to maintain operating air.  Hmmm! Great idea!  Vintage electric motor as alternative power source for the compressor, and we can fill both the Graz and Augsburg tanks just as Friedrich does!  And CPM has just the right motor!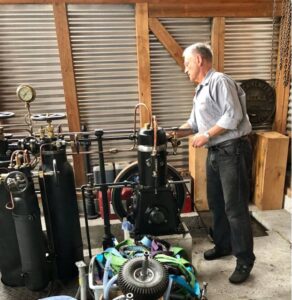 Here are three photos of the Graz and its compressor and air tanks.  Everything is pristinely restored!!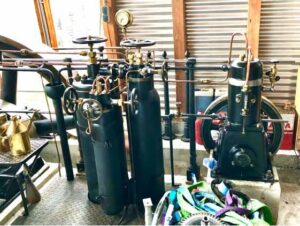 Another three photos of details about the Graz.  Such magnificent workmanship!  All the parts are gracefully arranged to display beauty as well as functionality.  One hundred seventeen years old and still operational.  Wow!  One can appreciate how easy it is to fall in love with this engine.
Now we will magically time travel back to 1615 to see what is happening in Graz, a part of the Austria-Hungarian empire.  Spooky, we're in medieval times and everything looks so different.  But what's going on here?  Yes, we find that a settlement of the Merciful Brothers of Graz was founded.  Brother Gabriel Ferrara unexpectedly healed the Archduke Maximilian Ernst, preventing his arm from being amputated.  So, the Hospital of St. John of Graz was founded and has never closed its doors to people seeking help and medical treatment.  The Hospital and Convent of the Barmherzigen Brothers remains very active today.
The Brothers were very progressive, both in 1904 and today.  They offer the finest medical care available and are proud to be the oldest hospital in Austria.  The photo shows the original Hospital, Church, and Monastery in crowded old town Graz.  They also have a new facility offering every service imaginable!  They still welcome all in need.  Continuous care of the sick since 1615.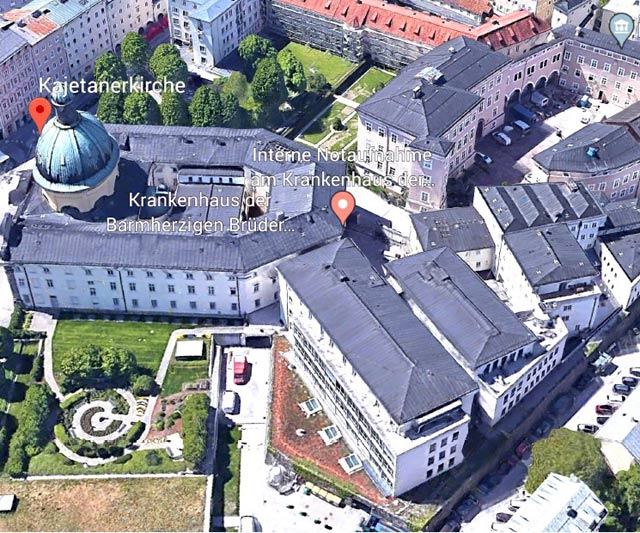 In 1904, they decided to electrify their hospital, ordering two Graz engines, a 12 hp and a 16 hp, both complete with dynamos and all accessories.  Unfortunately, the 16 hp was lost over the years, but the 12 hp will be coming to CPM!  Friedrich removed it from its original location in 1983, and meticulously restored it and installed it in his location.  He has all the original literature as well as detailed maintenance records.  Even the factory-supplied tool board and wrenches!  What a treasure.  We must give it an appropriate installation here.
So where will this jewel go in CPM?  Ground will soon break for the new Air-Blast Injection building.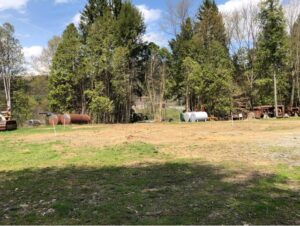 ABI Building site at Coolspring Power Museum.
First, our contractor will establish the floor level then install the Augsburg and Benz foundations.  The Graz foundation will have to wait until we return to Hof to make precise measurements.  Friedrich supplied us with a copy of the foundation plans that he used.  It is a great start.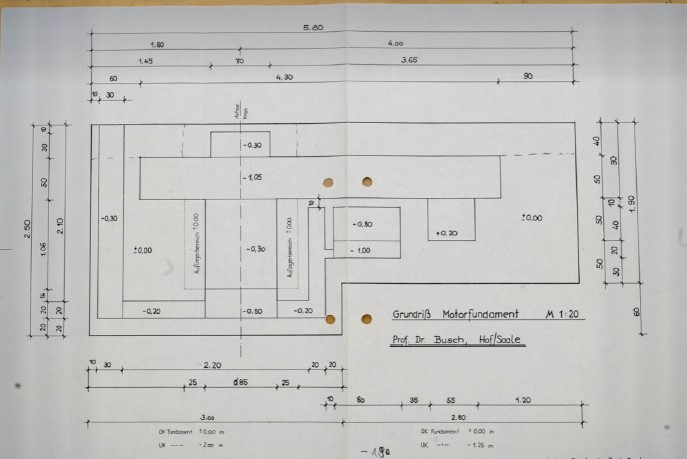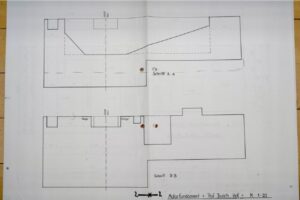 Dr. Busch's plans for the Graz foundation.
So, what will the new building look like.  Here is the proposed layout, but the reader will have to wait until my next month's article to see all the drawings and progress.  I will be telling an exciting story!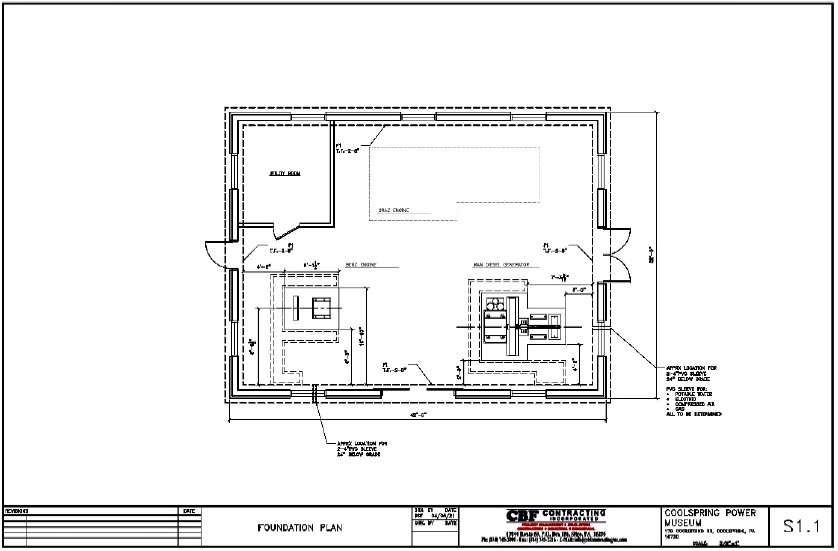 Plan view of the ABI Building at CPM.
I certainly hope that this article has explained the mysterious Graz engine and I hope that you will now appreciate its significance.  It has a fascinating heritage!  Watch for the next article.
THINK GRAZ!